Getting ready for a baby's arrival is very important and many expecting parents start to prepare for the birth of their child as soon as they know they have conceived such as
Getting their finances in order and having a birth plan
Buying the essential baby kit – A new must-have hospital bag, diapers, clothes, wipes, a cot, baby monitor, car seat.
Setting up the nursery
Not all parents can afford the above and much more, in time for the baby. That is why the idea behind gifting parents-to-be is to help them feel completely relaxed enough to prepare for welcoming a new life because as tiny as they are, they require a whole lot. What you decide to bring to a baby shower should be thoughtful and practical.
This where a baby gift registry comes in handy. It gives expecting parents a chance to list down all the baby gifts that they don't have and need to receive from the friends and family on their baby shower party. This also gives the guest a chance to focus on what they can afford. However, it is all well and good if you want to stray away from the baby registry and look for something unique and special to celebrate your friend's baby
Depending on how close you and the host are, spend or give what you feel comfortable giving or if there are budget constraints, go in on a gift with someone else and split the cost
As a host, consider your gender reveal themed baby shower invitations because, in as much as you want to want to keep the gender a secret until the reveal moment, it's important to find creative ways to help your guests buy you the appropriate gifts for the gender of your child.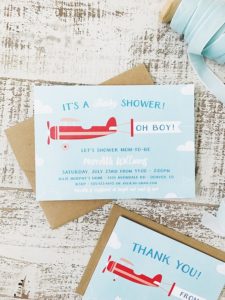 Here are 10 of the best gift ideas for a baby shower
A memory keepsake baby book
A baby arrival gift set in a reusable wooden box, which has natural, non-toxic essentials such as diapers, wipes, healing balm, sanitizing spray, shampoo and body wash, face and body lotion, and a teether.
A welcome home baby set – Includes a short-sleeved bodysuit, knit cap, jersey cardigan and coordinating footed leggings.
Cotton and bamboo rayon baby swaddle pack and a new beginning gift set that has two breathable cotton muslin swaddling blankets, a bib, a little cloth that double as a burp cloth
A bib and burp set made from highly absorbent soft cotton fronts and terry backs
Buddy Nightlight with adorable colors and faces
A floating bath thermometer with a color-changing LED that tells you when and if the water is just right for the baby
A baby playground with plenty of toys to engage the baby such as like a battery-operated musical buggy, detachable stuffed robots, a dangling mirror, and a puppy dog-shaped tummy time pillow
Ultra-soft crib fitted sheets
A white noise fuzzy toy
If you have had your own child you may be able to add to this list of something that you thought was life changing for your child. I know everyone has their own life-saving items that helped them get through the early stages of adjusting to being a new parent. If you don't have any children I hope you find this list helpful as I know from being a parent the above list will be super helpful for the new parents so you won't go wrong with any of these items.
So now you know what to expect from a baby shower and what you will want to bring to be helpful to the new parents.